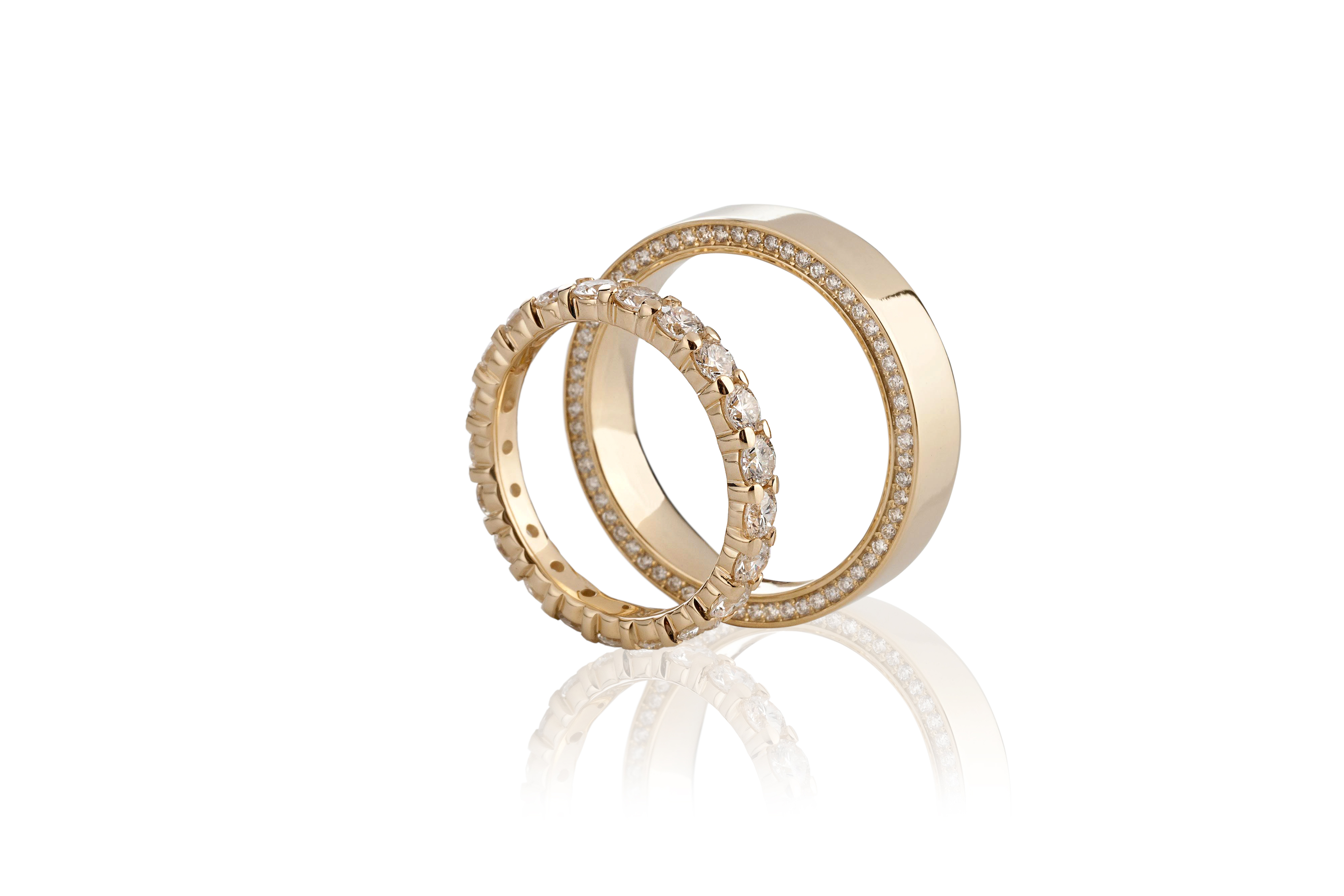 Rinkdamiesi vestuvinius žiedus atsiminkite, kad juos nešiosite kiekvieną dieną, daug metų. Kai kalbame pie vestuvinius žiedus, nesivaikykite madų, tendencijų. Susitikusi su klientais stengiuosi juos pažinti - koks jų gyvenimo būdas, stilius, net pomėgiai. Nes vestuviniai žiedai, kaip joks kitas papuošalas, turi atspindėti porą, žiedai kuriami indivilizuotai, konkrečiai jai ir jam. Visada siūlau būsimiems jaunavedžiams rinktis klasikinio dizaino ir būtinai patogius žiedus. Labai gerai pagalvokite, ar norite kelių aukso spalvų žiedų, nes jiems reikės daugiau priežiūros, dažniau turėsite nešti juvelyrui valyti ir poliruoti. Taip pat svarbus iš kokios aukso prabos sukurtas jūsų meilės simbolis. 750 prabos aukso lydinys yra daug minkštesnis nei 585 prabos auksas, nes jame yra didesnė gryno aukso dalis, o grynas auksas trapus ir labai plastiškas. Todėl žiedai labiau braižysis, lankstysis, aš rekomenduoju vestuvinius žiedus kurti iš 585 prabos aukso. Jūsų vestuviniai žiedai gali būti puošti faktūromis, brangakmeniais, bet rinkitės klasikinius, labiau minimalistinių formų žiedus.
Jei jūs daug metų vedę, bet norite atnaujinti ar užsisakyti naujus žiedus, labai jūsų lauksime. Kartu sukursime ypatingus ir prasmingus žiedus.
Pagarbiai, Jurga Gusarovienė
Saviciaus str. 4, LT-01127,
Vilnius, Lithuania
+370 611 13713
gusaroviene@gmail.com
I-V: 11 am to 7 pm
VI: 12 pm to 6 pm
VII: 8 am to 6 pm
You are in advanced mode.
You can turn it off in left sidebar. To use advanced options, you will need to enter your own Google Maps API Key.
Get Google API Key
---